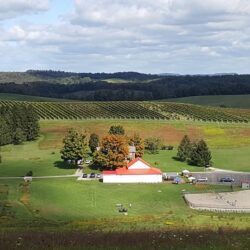 About
In 1​892 the 208 acre farm was bought by the Thistlethwaite family and has been handed down through the generations. The Vineyard's first acre was planted in 2000. We grow 10 varieties of French hybrid grapes on five acres of land. We grow all of our own grapes to get the juice for wine making so that we have complete control of the quality from the beginning of the process!
We opened our Tasting room, which is where the original stable was located, in 2008. We are proud to be Greene County's first winery!
Come for a complimentary wine tasting! After a complimentary wine tasting, feel free to browse. We offer an eclectic variety of items from wine related gifts and local artists wares.