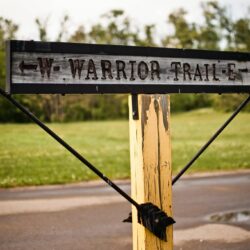 About
The Warrior Trail Association was formed in 1966 to preserve the history of the 67-mile trail across Greene County and into Marshall County, W.Va. Researchers believe it was an ancient route that Native Americans used over 5,000 years ago for flint, which was used to make sharp tools and was difficult to find in certain areas.
Meetings and a potluck dinner are held at 6:30 p.m. every third Thursday of the month (March - November) that are open to the public.
The Association also holds recreational hikes and work hikes to help maintain the trail.
Mail: P.O. Box 103, Waynesburg, PA 15370