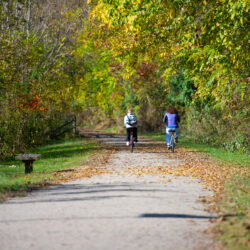 About
About 60 miles south of Pittsburgh, the Greene River Trail parallels the Monongahela River as it winds through the coal mining region of Greene County. Originally used as a rail corridor, the Greene County Department of Recreation opened the trail in 2001 as a nature trail.
Driving through the river valley to the trail, you can glimpse several large coal mining operations just over the east ridge of the river. Remnants of older mine operations that processed and loaded coal onto railroad cars and river barges can still be seen along the trail. It's easy to imagine the days of old when barges ran up and down the Monongahela River to transport coal to the Ohio and Allegheny rivers in Pittsburgh.
The trail starts in Carmichaels at the Jessop Boat Club trailhead. From there, the trail runs north along the river through a stretch of peaceful, scenic woodlands. The smooth trail surface is well maintained, and the trail in enclosed by rustic wood fencing along much of the route.
About two miles down the trail, you'll encounter the Crucible trailhead along Crucible Road. After Crucible, the trail continues to wind along the Monongahela River for another two miles until you reach Rices Landing.
You'll encounter many sweeping views of the mighty Monongahela River and glimpses of the beautiful nature and peaceful surroundings of Greene County. As you enter Rices Landing, you pass W.A. Young & Sons Foundry and Machine Shop, a restored working 19th century machine shop open to the public during the summer. You can also begin your ride or hike from the Rices Landing trailhead.
After Rices Landing, the trail continues to wind along the Monongahela River. Along this portion of the trail, you'll see remnants of Greene County's coal heritage.

Parking and Trail Access
The Rices Landing trailhead is located near the Rices Landing Lockwall at 137 Main Street, Rices Landing, PA 15357. There is a parking area at the trailhead and public restrooms.
The Carmichaels trailhead is located near the Jessop Boat Club at Jacobs Ferry Road/State Rt 1025, Carmichaels, PA 15320. there is a parking area at the trailhead.