The Vendors of the Waynesburg Farmers Market
By Abigail Phillips
The Waynesburg Farmers Market is one of the longest-running farmer's markets in Greene County since its introduction by Waynesburg Prosperous & Beautiful in 2005. From 10 am to 2 pm on Wednesdays, customers can find a quaint market right next to the courthouse. Enjoy shopping for farm-fresh produce, home-baked goods, wine, and hot lunches to-go.
Buying local supports our farmers and businesses, but why is the Farmers Market something that keeps bringing customers back? The produce was growing yesterday on the farms and is the freshest you can obtain. You can even learn about the latest crop of produce – why it is harvested now and how to prepare it for eating – directly from the experts. The baked goods are always a tempting treat that cannot be ignored. But the interactions with the vendors, a friendly hello or the genuine concern about how you are doing, keeps us returning to the Waynesburg Farmers Market.
Some of the venders that frequent the Waynesburg Farmers Market are: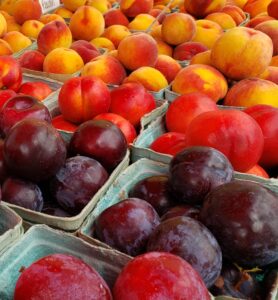 Harden Family Farm & Market
For all your fresh fruits and vegetables, the Harden Family Farm is the place to stop! Fresh farm eggs, jams and jellies, vegetables, fruits, and even full-blown garden plants to help start-up your own seasonal garden! Shoppers look forward to each produce season, from strawberries in the spring, corn in mid-summer, peaches in August and apples and squash in the fall, there is something to look forward to the entire market season. For around 50 years and an original Farmers Market vendor, the Harden Family Farm has been growing and serving the regional area with locally-grown vegetables and fruit from Chambersburg.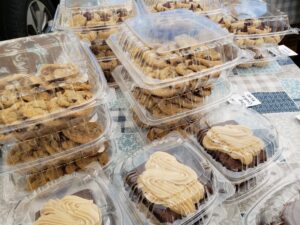 Willow Tree Farm
If you are craving something sweet, this farm stand is for you! Willow Tree Farm sells homemade baked items like cinnamon rolls, bread and rolls, pepperoni rolls, blackberry cobbler, peanut butter cookie sandwiches, lady locks, and more. On top of amazing baked goods, Willow Tree Farm also has pigs, cattle, and goats. So be sure to stop by and try their award-winning fudge cake. Attending as a vendor for 11 years, Willow Tree Farm shares that you can find things at the market that cannot be found in your grocery store.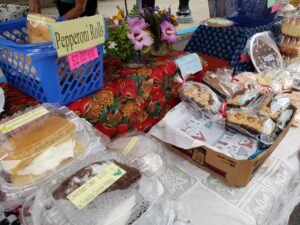 Sue's Bakery
You can't leave the Farmers Market without nut rolls and lemon bread from Sue's Bakery! Converse with Sue while shopping among the house plants, various baked goods, eggs, and food dishes such as pasta salad – which would be perfect for lunch or dinner. Don't forget to pick up a slice of banana bread for the drive home. As an original Farmers Market vendor, Sue's Bakery keeps coming back for the customers that make every Wednesday special.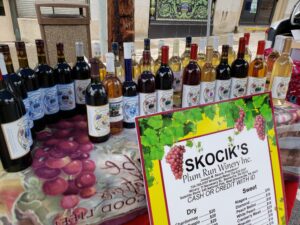 Plum Run Winery
Plum Run Winery showcases a variety of dry and sweet wines that are perfect for everyone's taste. Popular wines include the Black Raspberry and Elderberry. For 10 years, Joseph Skocik has been bringing his wines to the customers of the Farmers Market.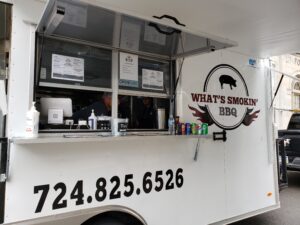 What's Smokin' BBQ
Looking for lunch? You don't have to go far as What's Smokin' BBQ is a featured food truck for the second year. Choose from a menu specializing in brisket, pulled pork and chicken, smoked burgers, smoked mac & cheese, nachos, and quesadillas. Customer reviews rave about the phenomenal food and friendly service!
Follow Waynesburg Farmers Market on Facebook to learn the latest updates and news from the vendors.