Remembering Our Rain Day Boys
Every year during the Rain Day celebration, the Waynesburg community takes a moment to remember and honor the brave men of Company K, 110th Infantry, 28th Division who gave the ultimate sacrifice during World War I between July 28 and 29, 1918. The 18 young men are known as our "Rain Day Boys."
The first casualty of the Rain Day Boys, James Leo Farrell, tragically lost his life on July 28th when the Division Headquarters where shelled. On July 29th, 17 were killed or mortally wounded in action.
Rain Day Boys
James Leo Farrell, Private
Bert Buchanan, Private First Class
Harold Thomas Carey, Private First Class
Hallie Jackson Closser, Private First Class
Harry Dunn, Private First Class
John Grimes Duvall, Private First Class
Floyd Thomas Hickman, Private First Class
Benjamin Arvid Manning, Mechanic
Frederick W. Marshall, Private First Class
George T. McNeely, Private First Class
Francis Benton Moore, Private First Class
Charles Edward Murphy, Corporal
John Milton Paden, Mess Sergeant
Walter Bertram Riggle, Lieutenant
Lawrence Leslie Staggers, Private First Class
William Webster Throckmorton, Private First Class
Russell Kenneth Yoders, Private First Class
Norman Montgomery Zahniser, Private First Class
The somberness of the occasion is captured in the words of John O'Hara, who wrote, "On that Rain Day in 1918, it rained bullets on the men of Company K."
By the end of World War I, at least 60 local soldiers from Greene County made the ultimate sacrifice and highlights the heavy toll this conflict took on the local community.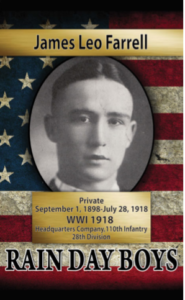 The Rain Day Boys' legacy lives on through the annual Rain Day celebration in Waynesburg. This event brings the community together to remember and honor the sacrifices made by these brave soldiers. It is a time for reflection, gratitude, and solidarity, as the town pays homage to those who fought valiantly for their country.
In 2018, the town of Waynesburg commemorated the centennial anniversary of the Rain Day Boys' sacrifice. It was an occasion for the entire community to come together and pay tribute to the local Greene County soldiers who lost their lives in the battle on July 28 to 29, 1918. These brave men, who left their homes and families behind to serve their country, will forever be remembered as heroes.
For those interested in delving deeper into the history of the Rain Day Boys and their courageous acts, the website GreeneConnections.com provides valuable information. It offers a comprehensive resource to learn about the men of Company K, their stories, and the impact of their sacrifice on the local community.