Bricks and Legends
By Colleen Nelson
If you travel Route 19 (Washington Road) south into Waynesburg, prepare to hit the brakes as the road veers sharply to the right and you descend into town. You will notice the streets and houses outline the bowl of land that drops and levels out, as you pass houses that get progressively more ornate and Route 19 becomes Richhill Street. Green Mount Cemetery is on the left, and old stones stud the final patch of level ground that overlooks Waynesburg University. Those markers are a testimony to the lives of Greene County's earliest settlers, whose descendants still call Greene County home.
Wayne Street, named North Street when Waynesburg was first established in 1796, borders the park that served as common grazing grounds for the sheep of this colonial town. Take a stroll and see for yourself what has been preserved from these times. Don't forget your dog, a kid or two, and a bag of peanuts – squirrels still roam where sheep once grazed, and they do appreciate a snack.
Elisha Rinehart, whose ancestors were some of the first settlers, was a teenager when he helped build Hanna Hall in 1849. Elisha parlayed his earnings into farmland on Delphene Road in Jackson Township, which paid off handsomely when the gas and oil boom came. The bricks that Elisha and other workers, including a generation of college students, laid into these early halls came right from the commons and nearby hillsides where clay seams were plentiful.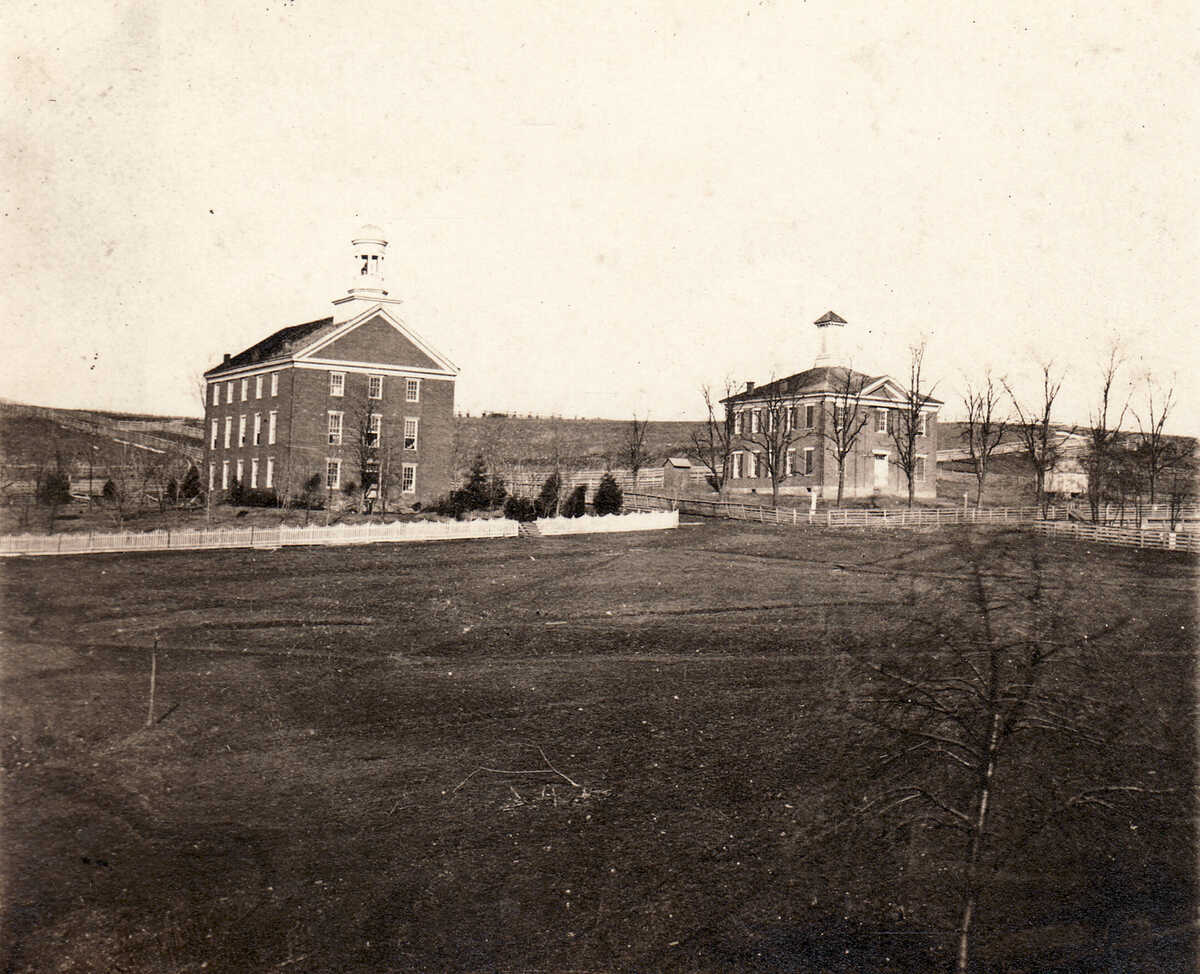 In the 1860s the campus consisted of Hanna Hall, Union School and lots of open space and muddy lanes. Students mustered out in 1863 to fight in the Civil War. In 1994 another group of Waynesburg students revived their 140th Pennsylvania Volunteer Company A as a reenactment group that has refought the Battle of Gettysburg on more than one occasion. They stage battles and set up camp at the Greene County Historical Society Museum Harvest Festival and the White Covered Bridge Festival almost every year.
Back then, a college education included rolling up your sleeves and helping build whatever wall the college needed. Professor Alfred Miller put his students to work on the college expansion of the 1870s. They built a reservoir in the commons by digging clay that was used to make the 1,400,012 bricks for Miller Hall.
When that land became College Park in the 1890s, the reservoir was converted into a lily pond and named "Lake Wanita" after local politician and park advocate David Hoss's daughter. Legend has it that in the 1970s a freshman brought his kayak with him when he heard there was a lake on campus.
Since its earliest days, Waynesburg University has been renowned for its faith-based curriculum that has trained generations of local students to be teachers, lawyers, nurses, and other professionals that Greene County needs to continuously prosper. Students of today come from everywhere to spend four years volunteering in the community as part of their service learning credit. Some like it enough to stay and make their life here.
There's something about Greene County that feels like home.
Expand your trip back to Waynesburg with the The Alumni's Guide to Homecoming Weekend: All Things Waynesburg while you Visit.