Greene County Salutes All Who Served
Coming up are several opportunities to honor those who have served this country and call Greene County, Pennsylvania home.
Greensboro Banner Dedication | Saturday, November 6
Greensboro will be celebrating their hometown heroes with a dedication for the new Veterans Banners on display in Greensboro. Dedication will be held at The Gazebo on Main Street. Parade starts at 10am and the guest speaker is Michael Belding.
Veterans Event | Saturday, November 6
The Greene County Veteran's Council will be holding an event at the Greene County Fairgrounds on Saturday, November 6 between 10am and 3pm to honor all who have served. Spectators and vendors are welcome to participate and enjoy the event.
Bobtown Veterans Ceremony | Sunday, November 7
Bobtown and Dunkard Twp will dedicate a new Vietnam Memorial on Sunday, November 11 at 1pm. Boy Scout Troops 1280 and 9280 will assist with a flag ceremony, Layna Fisher will sing the national anthem, and Retired Major Pete Keruskin will be the guest speaker. Arnold Friend will share a poem and Retired LTC Todd Moore will assist with the dedication.
Carmichaels Veterans Day Parade & Ceremony | Thursday, November 11
The Carmichaels Area High School Band and the Carmichaels Legion Post #400 will present a Veterans Day Parade and Ceremony on November 11 beginning at 10:30am on South Market Street near Yoskovich Funeral Home. Spectators are invited to view the parade as it proceeds through town square to the Carmichaels Area High School for the ceremony of honor and remembrance.
Greene County Veterans Memorial Park | Thursday, November 11
Greene County Salute to Veterans invite you to join them and help dedicate the addition of new benches and 300 bricks on two newly completed memorial walls during a Veterans Day Ceremony. Replicas of the walls will be on display as the arrival of the granite has been delayed due to supply issues. The ceremony will be held at 11am on Thursday, November 11 at the Veterans Memorial Park. Light refreshments will follow the ceremony. Limited seating is available, but attendees are encouraged to bring their chairs.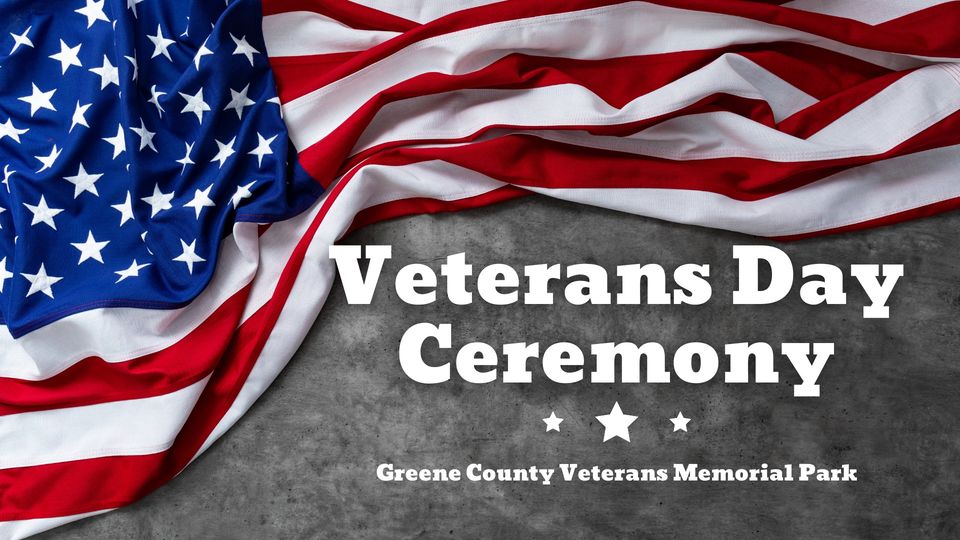 Thank and Support Veterans
While attending either of these ceremonies or any Veterans Day event, it is encouraged to thank the Veterans who cross your path. A casual, "thank you for your service," is an appreciated, simple gesture, but what are some ways you can actually help veterans and really thank them for their service?
Write a Check/Donate to Veterans Organizations | There are countless organizations that could use extra support for programs that aid wounded warriors, assist current servicemembers and their families, and help those looking for jobs after leaving the military. Simple strategies such as specifying the allocation of your donation made to any entity can allow for your dollars to specifically fund a veteran program, scholarship, or cause.
Hire a Veteran/military spouse or caregiver | If you hold any type of management or leadership position, you can encourage your business or organization to improve its veteran hiring practices. Supporting veteran families is also as important as supporting veterans themselves. Consider hiring military spouses and caregivers where possible as well. Veterans and their families alike can make a great asset to any team as they demonstrate values such as service, hard-work, and resilience.
Support a Veteran Owned business | According to the U.S. Small Business Administration, vets are 45% more likely to start their own business and one out of 10 small businesses in the United States is vet-owned. Frequenting these businesses or adding them to your supply-chain helps support a veteran's living and the importance of shopping small.
Offer your Expertise/Trade | When you can't supply cash, there are always opportunities to provide your expertise, skills or trade to serve those who have so generously served us. Do you have a background or experience in healthcare? Do you love to cook and share your meals? How about construction or another trade? Instead of giving money, your time and expertise could be a powerful asset to programs that provide vital services and protect veterans' livelihood. There is a good chance your local VA Hospital is in need of volunteers. Volunteers can provide aid in various ways including operational, clinical, and recreational services, and don't let age deter you. There are plenty of services feasible for both young and old! Simply reach out to your local VA Hospital or visit their website to view their needs.
We hope that these gestures of thoughtfulness help you out, not just on November 11, but year-round as well!