Take a Tour of Veterans Monuments in Greene County
"Honor to the soldier, and sailor everywhere, who bravely bears his country's cause. Honor also to the citizen who cares for his brother in the field, and serves, as best he can, the same cause – honor to him, only less than to him, who braves, for the common good, the storms of heaven and the storms of battle."
-Abraham Lincoln
If at all inspired by this quote that honors Veterans and those who have served our country, take a self-guided tour of Greene County's many monumental tributes to its soldiers. Veterans monuments and memorials stretch across the rolling hills of the county, and an afternoon spent exploring the countryside makes for a time of relaxation and remembrance. Listed below are just a few to jump start part one of your self-guided tour.
Greene County Veterans Memorial Park | 900 Rolling Meadows Rd, Waynesburg PA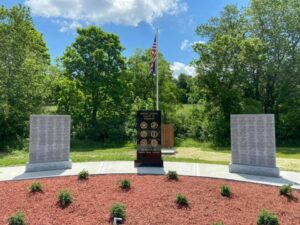 Dedicated on Memorial Day 2021, the Greene County Veterans Memorial Park was established so all veterans will be remembered. The circle memorial encourages visitors to walk around and remember. Read More
World War 1 Monument | 900 Rolling Meadows Rd, Waynesburg PA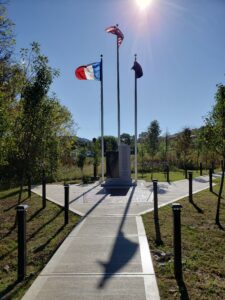 Dedicated November 11, 2018, this monument was constructed in honor of the 100th anniversary of the end of World War 1. The monument features the names of 58 Greene County men who died serving the country. READ MORE
Civil War Monument | Monument Park, Waynesburg PA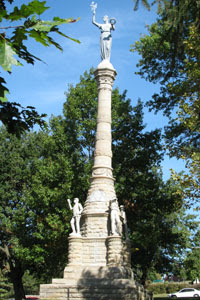 Dedicated on July 4, 1899, this 65 foot monument is the "Soldiers and Sailors" monument honoring those who had fought in the Civil War. The inscription on the base states "Erected by the County of Greene in grateful memory of her soldiers and sailors of the war for the union." READ MORE
Greene County Courthouse | 10 E High St, Waynesburg PA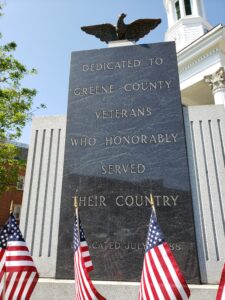 Dedicated July 1, 1988, this monument stands outside of the Greene County Courthouse in Waynesburg, PA. Decorated with flags, it honors all from Greene County who have served.
Veterans War Memorial | Aleppo Rd. across from Post Office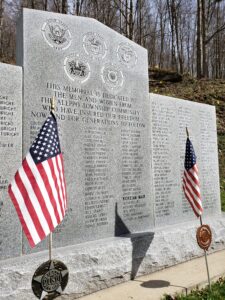 Originally built in the early 1970s, this memorial was replaced in 2014 with a new granite monument that was unveiled in a Memorial Ceremony by the township. It honors over 300 individuals from Aleppo Township who served in the armed forces from World War I through Vietnam.
Greene Township Veterans Memorial | Garards Fort Cemetery, Garards Fort PA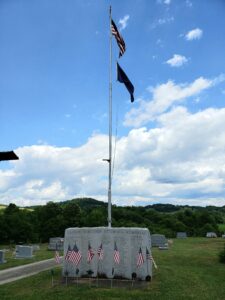 Located in the Garards Fort Cemetery, this memorial honors all veterans hailing from Greene Township. Decorated with flags, large and small, it stands tall over the gravestones and commemorates those who have passed.
Bobtown Honor Roll | Bobtown, PA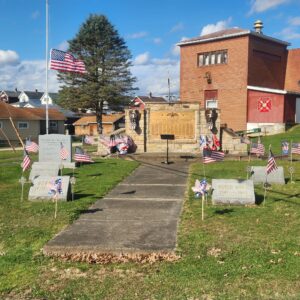 Located next to the fire station at the intersection of Larimer Avenue and Bobtown Hill Road (Franklin Street), the Bobtown Honor Roll was first built in the 1940s with the names of 348 local men and women who served in the armed forces. The Honor Roll was rededicated on October 17, 2015 after the monument was restored. In 2021, a new monument was unveiled in memory of three residents (Daniel Allum, Joseph Antonelli, and Keith Held) that were killed in action during the Vietnam War.
These monuments are just a few that stretch across the county, honoring those who have laid down their life for the sake of this country. Be on the lookout for additional segments to come of this self-guided tour of honor.